Herve Tullet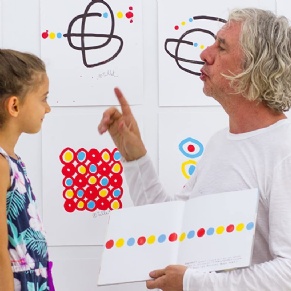 Welcome to a new section of the website... the Art Blog. Here, we will be sharing the work of other artists and art institutions to inspire you and get you thinking. We would love to share work from Stopsley pupils too. You can email work to your year group's help email. Remember, this can only be a picture of the work and no faces please!
Earlier this year children and parents attended an art workshop in the hall where we collaborated with one another to paint huge lengths of paper with circles and dots and create our own 'Field of Flowers'. This idea was taken from a book by artist Herve Tullet. He is a French artist who has great ideas for those who perhaps "don't like art" or think "you have be good at drawing to be good at art". This statement is neither right or wrong. There are so many different styles of art, that ANYONE can make and create something. Therefore, anyone and everyone can be an artist - not just people who are good at drawing!
Have a look at Herve Tullet's Website. Maybe you will want to make something similar. If you are reluctant to make anything, talking about art is a good starting point. What colours can you see? What shapes can you see? How does it make you feel? Try writing down what you like or do not like about his work, or find someone to discuss the work with.
Have a great week!
Ms Williams