Stopsley Makers - Mrs Newman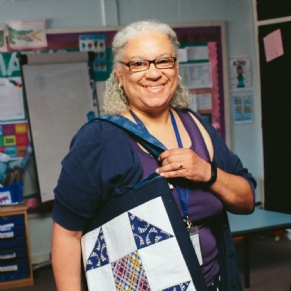 Mrs Newman is the first person to be featured as one of our 'Stopsley Makers'. She is super talented and as the children in her class know, she always has a great art and craft idea to share. Discussing what Mrs Newman likes to make and create in her spare time, she told us that her favourite materials to make things with are paper, card and fabric. We have shared photos of a few examples of her fantastic hand made quilted bags.
"It takes alot of precision and accuracy, so rather than committing to full size bed quilts, I have been making patchwork blocks and practising my quilting skills on a smaller scale with tote bags", Mrs Newman told us. When asked why she likes to get crafty, Mrs Newman explained, "it's incredibly peaceful and relaxing" and "it gives me pleasure and purpose". Thus proving how good arts and crafts are for mental wellbeing.
Keep checking back here on the Art Blog to see more great work by our Stopsley Community!