New Partner School with LTFC!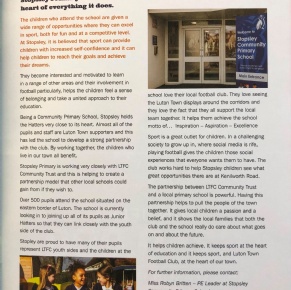 We are proud to announce that we have now become an official partner school to the amazing Luton Town Football Club. We are the only primary school that ahs this status. Being a partner school gives us lots of benefits that are only available for our children. These benefits include...
Stadium visits throughout the school academic year
Afternoon 1st team player visits
Participation into partnership schools tournament and festivals
Match day tickets for 3 games per year and the availability of reduced ticket prices for Category C fixtures
Mascot visitsto school
Some of our pupils to be mascots at a LTFC home game
LTFC at our annual school fete and other fundraising events (use of their inflatable dart board and inflatable goal whenever our children need a reward!)
Meet and greet first team players after training and interview them to help develop our English skills and to learn about sports journalism
Our partnership is celebrated in quite a few different ways. Our school's logo appears on all LTFC after school leaflets, we have our own banner at the stadium and we have our own match day programme page. Take a look at the picture here to see our latest matchday programme page. We also receive a lot of support from LTFC with PE and PSHE lessons which is great for the staff.
We are very proud to support our local team. To find out more, please visit our LTFC page in the 'Our Community' section above. There are more great benefits coming too so watch this space to find out more.