Footballers Visit Stopsley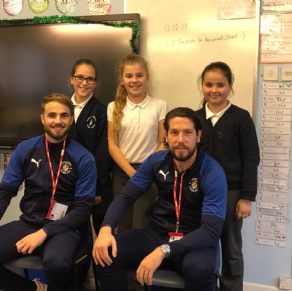 Luton Town Footballers, Jacob Butterfield and Andrew Shinnie dropped in on Year Six students at Stopsley Community Primary School recently (Friday 13th December).
The pair were quizzed by the children about their passion for soccer and what inspired them to become professional footballers.
The students had prepared for the encounter by coming up with questions in an English lesson, and they will follow up next term by writing biographies of Butterfield and Shinnie.
Before leaving, Shinnie and Butterfield wished the girls football team good luck for their tournament which they were playing later that day. The girls went on to finish in 2nd place in counties and only lost on goal difference.
The footballers also handed over some sports equipment donated to the school by Luton Town FC for the children to use at break and lunch times.
After the visit the children reflected on their experience of meeting the footballing heroes. One child said "It was amazing, meeting the footballers in person and hearing their stories was really inspirational."
Another child said that it was interesting to hear other jobs you can do in sports, not just becoming a footballer, and they wanted to learn more about careers in sport.