Individualised Learning
This page provides more personalised learning for our children with Special Educational Needs and Disabilities (SEND). Any parents are welcome to use the resources on this page but they are provided to support parents whose children have an Education Health Care Plan (EHCP) or an Individual Education Plan (IEP).
Please click on the pages on the right hand side to access resources for different aspects of SEND. Below is also a good link of activities that could be chosen to entertain:
Activities for working at home
If parents need any support regarding SEND and Distance Learning, or have any questions that they need to ask, please get in touch with one of our school's SENDCOs using the school phone number or the following email address:
Miss Konstantinidou: konstantinidouv@stopsley.primaryluton.co.uk
Mrs Honey: honeyj@stopsley.primaryluton.co.uk
Selina Taylor, our designated Education Psychologist from LBC, is operating a help line for parents throughout any lengthy school closure. Parents can call 01582 546256 to speak with Selina.
The school will continue to update this page, and all of it's resources, regularly throughout any lengthy closure. Parents can find a useful resource at the bottom of this page which helps children with developing fine motor skills. There is also a fun '30 day challenge' with lego that your child might find enjoyable - we all know that lego develops imagination and numerous skills, as well as promoting discussion and conversations. Both documents can be viewed or downloaded by clicking on the link at the bottom of this page.
Keeping a routine
There are a lot of suggested daily routines online but we have suggested one below which we feel would be off best help. There are some ideas included in the routine that will keep your children occupied during any lengthy school closure. In school, we find that having a routine in place helps to reduce children's worries and it helps them to manage their behaviour as they have clear expectations. Providing them with a visual of what the day has in store also helps them to know what is happening, and in turn reduces any worries. Please click on the picture to open the suggested routine.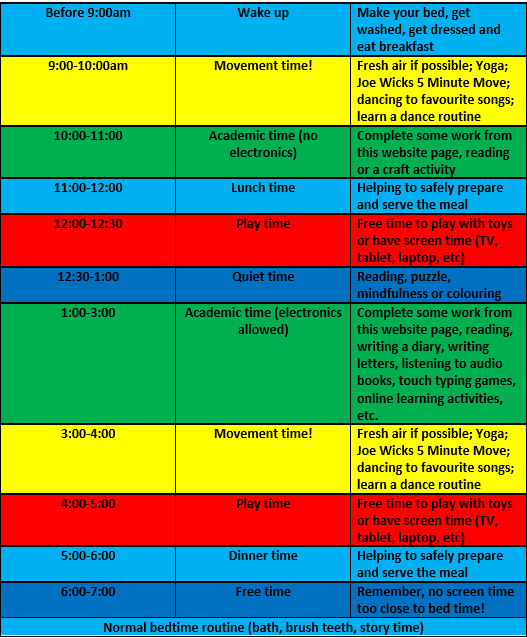 Here is an alternative online suggestion for how a home school family might structure their day:
Online Daily Routine
If your child is finding the thought of Home Learning difficult, it might be worth watching the video and reading the advice provided by Amanda Morin.
Although the school provides resources for Home Learning and suggested routines, we do firmly believe that pupil well-being is the most important thing (and the well-being of parents too). Families should only do as much or as little work as their children can manage, and should invest the valuable time in reading, talking and playing games together, as well as spending time going for walks and enjoying the sunshine (if we have any!). Please do view our well-being tips for families below.