Getting Myself Dressed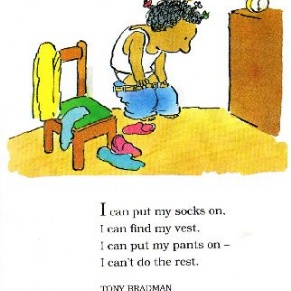 The Summer term will soon be here and for many Hedgehog learners the countdown to starting school will begin.
We have talked at the recent parents' evening about partnering to prepare your little one for Reception in September.
One of the ways you can help to get your child ready is to teach them to dress and undress themselves. Start with putting their coat on. The Easter break is a good chance to practice getting dressed as there is less of a time constraint for getting out of the door! If this seems a little ambitious, start by encouraging your child to get undressed at bedtime and put on their pjs.
When September comes (if the Covid restrictions are lifted) your child will need to get changed quickly every time they have a PE lessons.
In class, we have been learning this simple poem about getting dressed. We share news at news time of who has dressed themselves recently and what were the tricky bits. Six Hedgehogs have recently put on their coat and fastened it independently.
I will update this blog with more tips and tricks on getting ready for school every few weeks.
Good luck and happy holidays.
Mrs Newman