Oh Dear Me!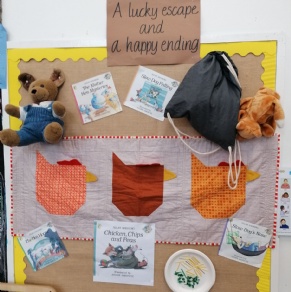 A lucky escape and a happy ending.
In Hedgehogs class this term, we are looking at stories and how they end.
If you look at almost any much-loved children's story there will be a rising problem, a near miss and almost certainly a solution. Many times, there will also be an obvious good character and a bad character.
This is particularly true of traditional tales of course.
Currently, we are really enjoying stories from the Fast Fox and Slow Dog series. We will also look at stories in the Preston Pig series. You can see how these all fit with the same theme.
You can get involved at home by looking for story book disasters and how they were averted as well as asking "Was the ending happy for everyone?" and "Was there a bad character?"
We would love to hear about some of your favourites and new discoveries. Please also come to share a book if you want to experience any I have mentioned here.
Happy reading.
Mrs Newman