Books for and about everything.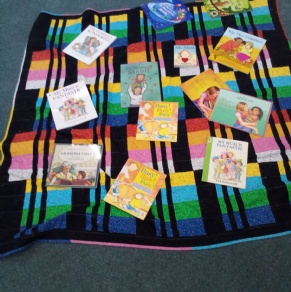 This is part two of our series on how to create book lovers.
I have a passion for children's books and stories. For this reason I have numerous story sacks. A story sack is a collection of books that are interrelated with props, puppets and even games to make them more interactive. We nearly always have a story sack related to a festival such as pancake day or a current interest of the children's.
If you came to share a book last Friday you would have noticed that the stories set out on the blanket this week were all about Mums and Grandmas. This is because we had a mini topic across the week relating to Mothers Day.
Our changing interest table (interactive display) also has related fiction and non-fiction. For the last few weeks it has been about road building and construction vehicles.
Watch out for the next one which will be the lifecycle of a plant.
This immersion in high quality books creates an interest within the children that we hope will stay with them.
Please continue to share stories with your child as often as possible.
Mrs Newman