Fantastic Fingers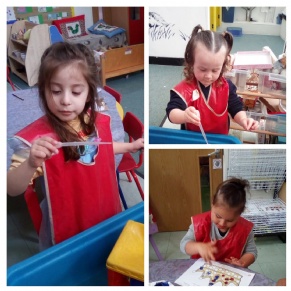 Do you remember any finger rhymes from your childhood?
The chances are that your nursery child knows one or two more!
Here in Hedgehogs class we are emphasising building strength in our fingers, honing skills of handling objects and fine-tuning co-ordination skills.
This is all part of our physical development. We are learning to manipulate small items for example, picking up pom-poms with tongs and squeezing water through a pipette to water our seeds.
Every day we practise popping up the fingers of one hand one-by-one to make counting on our fingers easier. We have fun with dough-disco, cutting and sticking, threading and building.
Our painting area has a menu of brushes that go from fat to thin as this will help to learn to hold pencils and pens with increasing control. Think about the skills involved in sprinkling tiny seeds into a small pot.
All of these playful and engaging activities are happening daily.
Ask your child to show you their fabulous fingers and talk about what they can do. If they are not using a knife and fork together yet, why not let them have a go soon? The same applies to doing up buttons and zips.
Enjoy a finger rhyme together today.