Dinosaurs are here again!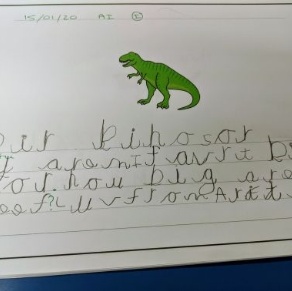 Our topic focus for the Spring term is 'Digging for Dinosaurs'
To start off our topic we spent time talking to the children about what they already know and what they would like to find out. We were very impressed that a couple of children knew the terms 'carnivore' and 'herbivore' and were able to help explain them to everyone.
Some very thoughtful questions were thought of including -
Could dinosaurs see in the dark?
Did dinosaurs have feathers?
Where did dinosaurs sleep?
We are looking forward to finding out the answers!
This week we have been learning our focus text 'Dear Dinosaur' and the children have had their first ever go at writing a letter themselves. We are all super proud of their efforts and we are looking forward to more dinosaur fun and facts over the coming weeks.