Welcome to Squirrels, Badgers and Rabbits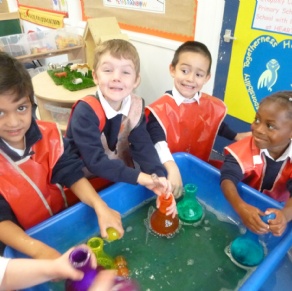 The new Reception children have settled in to life at 'big school' beautifully. All the grown ups have been so impressed with how well they have adjusted and how enthusiastic and curious they are. Children have spent their first few weeks getting to know our new routines, exploring the environment, making new friends, getting to know their new school grown ups and learning about our Stopsley Golden Rules.
Our focus in our first weeks has been on settling the children in and on making sure the Prime Areas of Learning (Communication and Language, Personal, Social and Emotional and Physical development) are secure in all the children as these are vital foundations on which future learning in other areas of learning will be built.
We have also been talking to children about the Learning Behaviour of Independence. This a key part of our first term together as our provision offers many opportunities for children to make independent choices about how they explore their learning. They are also learning to be independent with their belongings, hanging up their own coat on their own peg, making sure their book bag goes in their tray and remembering to put their jumper or cardigan in a safe place when they take it off (or it might not be where they left it when they return) They are also learning about looking after our resources by tidying away after they have finished. This also links to our Golden Rules.
In the coming weeks we will be learning our focus text 'Supertato' and exploring what makes a person 'unique' and the ways in which we are all 'super'. After all, not all superheroes wear capes!
Please enter some content for your blog post here.