Spooky themed fun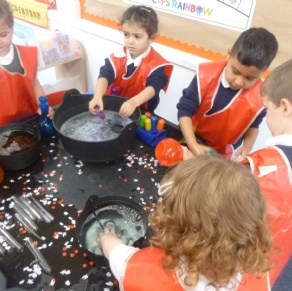 With Halloween approaching, the children were showing great interest in all things spooky and magical. We decided to plan some activities to provide learning opportunities linked to this interest.
The children explored capacity, cause and effect, sinking and floating, texture and colour mixing through using water, food colouring, spooky sequins, natural materials, cauldrons, pipettes and potion bottles. We also explored rhyming as we created witches potions. Most importantly it was lots of fun and helped us further cement our new friendships.
Children also used their senses to explore pumpkins. This was a great opportunity to build fine motor skills and the muscle in their hands. These are very important as they will help them develop the strength and stamina for writing in the future. Cutting a pumpkin can be a hard work which meant children sometimes had to work together in order to help each other. This is demonstrating another of our Learning Behaviours, Collaboration. We will learn more about this Learning Behaviour next term.
We also did some taste testing. The children had seen what an uncooked pumpkin looked like, felt like and smelt like. We wanted to give them an opportunity to see what it tasted like so we brought in some pumpkin soup for them to try. We were really impressed with the children's willingness to have a little taste and we were able to use the opportunity to develop children's descriptive language as they described what it tasted like and told us what they liked or disliked about it.
Another great opportunity for team work was a large scale junk model haunted house. Children worked on it all week, adding different parts, using different materials to create different effects and thinking about how they could make it even better. Lots of social, communication, design and evaluation skills were happening and the end result was very impressive.
We hope everyone has had a wonderful half term. We look forward to welcoming you all back to school.