We're going on a Dino hunt!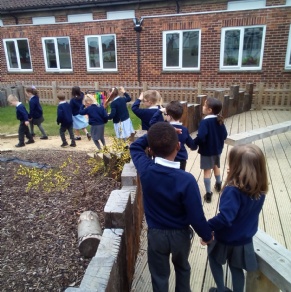 The children have come up with a new version of the popular children's story, 'We are going on a bear hunt'. We have changed it to 'We're going on a dino hunt'
Today the children were very excited to have the chance to act out our alternative version on an actual dinosaur hunt around the school.
We had to tiptoe through the corridor, jump through the playground, read through the library before finally coming to the jungle cloakroom at the end of the corridor. When we got there the children were amazed to find a dinosaur hiding!
Luckily it was friendly and even gave Mrs Johnstone's hand a gentle shake.
What an adventure! We can't wait to write about it. We hope that cheeky dinosaur doesn't get up to any mischief over the coming weeks... Better watch this space!