Planting and Growing!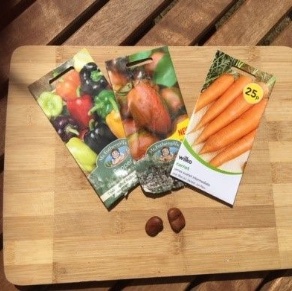 Hi Year 3
Just wanted to write to say "Hello" and to let you know some of the things I have been doing recently in these unusual times. I hope you have enjoyed looking at the Oak Academy lessons for Year 3. This week I was particularly interested to take part in the Science lessons about Plants, as I love gardening and find it thrilling to see plants growing in the garden, particularly when they produce beautiful leaves, flowers, vegetables or fruit. I was very keen to find out from the Science lessons what plants need to make them grow and stay healthy.
Over the last few months my eldest daughter has used part of our garden to grow vegetables. It has been amazing to see the tiny seeds that were planted in pots of compost, start to sprout up small green shoots and leaves. Then as they have started to grow taller and stronger, it has been necessary to put them into larger pots and then to plant a few of them in the garden, so that they have room to grow and produce more leaves and shoots.
We have made sure that these growing plants have had plenty of access to sunlight and air and, as it has not rained very much recently, we have watered them regularly so that each plant has all that it need to grow. Fortunately, we also had some tomato feed in the house, so we were able to give these vegetable plants some nutrients that will also help them to grow healthily.
At the moment, we still have to wait for the vegetables to grow from the plants, but we are excitedly looking forward to eating our own home-grown food.
What do you think will happen in the experiment that Miss Roberts of Oak Hall Academy is undertaking with the two plants, where we are investigating how the amount of water affects the growth of a plant? Even though she is growing the same type of plant in two pots that are the same size and will have the same amount of sunlight (control variables), she will water one plant daily, but will not give any water to the other plant, as water is the independent variable. Next week she will measure the two plants to see how much they have grown. Can you predict what might happen?
I know this is not the same as learning together at school and doing these experiments in the classroom, but I and the other staff are looking forward to seeing you again soon and hearing about all the things you have been doing and learning.
Very best wishes
Mrs Fretwell