Guitar Greatness!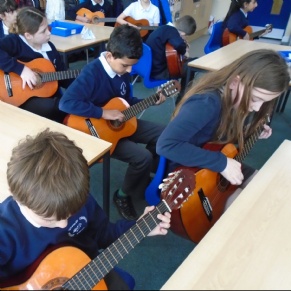 Determined, having the thirst for knowledge and being creative are some of the many skills you will find from the Year 5 children here at Stopsley Primary. So much so, that as well as applying these skills across core subjects, they demonstrate these skills within their guitar lessons.
This term, the children have been developing their finger techniques plucking open strings and using their other hand to vary the pitch. They have been working collaboratively within groups and as a whole class to bolster their performance skills using the pulse (a regular, steady beat) and listening to others to ensure they play in time and together. In addition to the guitar playing, the children have also been creating their own rap ready to perform to parents and loved ones - but we won't give any information away now, you'll have to see for yourself!
More information to follow with their performance date and time.