Anti-Bullying
Young people have the power to change the world!
If you're ready to take action and create communities of kindness, you're in the right spot! We are anti bullying at Stopsley Community Primary School and Nursery. The children and staff at the school work together to make sure that our playgrounds and inside environments are all bully-free zones.
Throughout the year, we run many anti-bulllying initiatives to continually raise awareness that any form of bullying is unacceptable. We hold an 'Anti-Bullying Week' every year and we campaign to make sure that we are regularly involved in community action - promoting respect, helping to keep people safe online and looking after people's well-being. To say we care is an understatement... At Stopsley we are #changemakers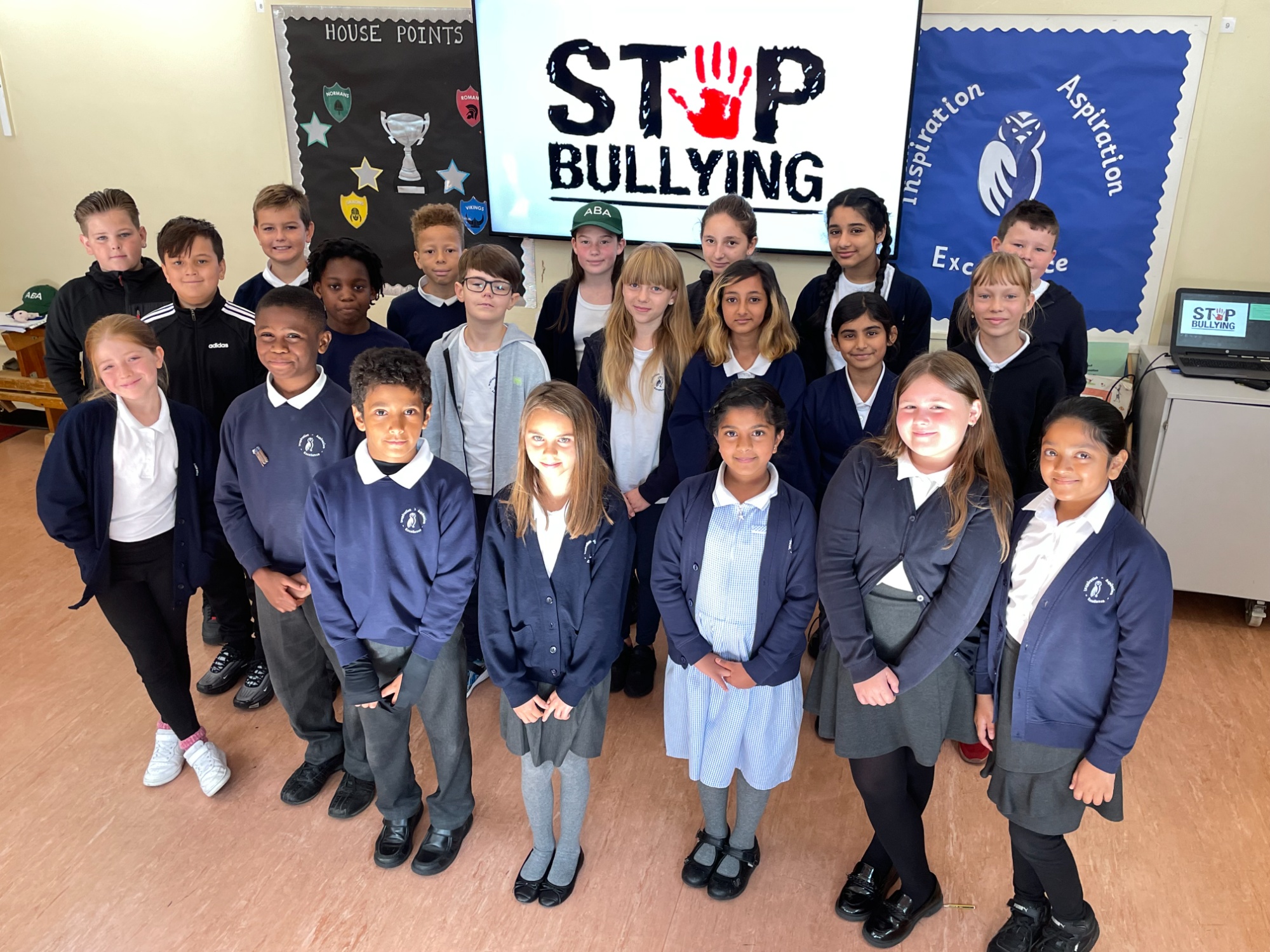 Anti-Bullying Council
Our Anti-Bullying Council is made up of our Anti-Bullying Ambassadors (ABAs) from upper Key Stage 2. Our ABAs are specially trained to look out for incorrect behaviours and to coach children of all ages if they are ever experiencing bullying behaviour towards them. Our ABAs regularly teach classes across the school, helping us to all become 'Upstanders' rather than 'Bystanders'. We teach about equality, diversity, fairness, kindness and cyber-bullying - helping to make sure that every child (regardless of age) does their bit to make Stopsley a bully-free zone.
If you would like to speak with an ABA about what they do or because you want some advice, please do get in touch. Children recognise our ABAs by the green caps they wear and by posters around the school.
Our Anti-Bullying work comes from The Diana Award which is a national youth charity, founded in memory of Diana (Princess of Wales) and her belief that young people have the power to change the world. The Diana Award's Anti-Bullying work is supported by HRH The Duke of Cambridge and engages young people, parents and adults to change the attitudes, behaviour and culture of bullying by building skills and confidence to address different situations. We are certainly #changemakers so all of our staff, children and parents work together to 'stand up' and make a difference. We also have a diversity team at the school who make sure that equality is promoted too.
Our definition of bullying is...
'Repeated, negative behaviour that is intended to make others feel upset, uncomfortable or unsafe.'
Any bullying behaviour is recorded at Stopsley and is dealt with immediately. ABAs tackle any incidents first and then staff members will support when and where necessary. Together, we give children the skills, strategies and confidence to 'stand up' to bullies and stop such negative behaviour happening. Members of our Anti-Bullying Council are not just peer mentors. They also take on other roles too which help us have a real team approach to stopping bullying happening at Stopsley. You will find our ABAs being well-being leads, creative leads, IT leads, public speakers, writers, event planners and staff liaison members.
We are proud to have zero bullying at Stopsley. Talk to us to see how you can make a difference.
#changemakers