Our Favourite Stories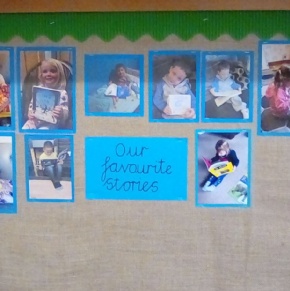 One of our focuses at the moment is encouraging a love of reading and stories with the children. We share lots of stories and books in Nursery and we are keen to hear about the stories the children enjoy at home.
We are encouraging the children to share and talk about their favourite stories from home. Parents have recently been asked to send in a photo of their child looking at a favourite book at home. We are displaying these photos in our reading area. Our display is underway with some photos we have already received and it has been great talking to the children about them. We would love to make our display even better by adding more photos for us to share. If you have not yet sent in a photo of your child with their favourite book its not too late. Photos can either be handed to a member of staff at drop off or pick up or emailed in via the school office. We look forward to seeing them and hearing all about the children's favourite books.