Learning through stories.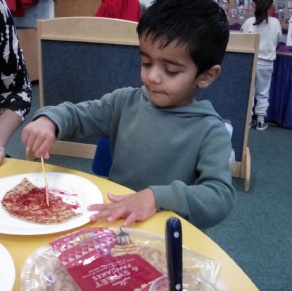 This is part two in how we can create a love of books in our children.
In Nursery this week, we immersed ourselves in all things related to pancakes. This started with a different pancake story every day. My favourite one is Mama Panya's Pancakes closely followed by Batter Splatter.
Our 'coming in pictures' all week have related to pancakes and as always are chosen to encourage new words and opportunities for every child to talk and be listened to by their class mates.
We have also learned two pancake songs this week and of course, we have filled and eaten our own pancakes.
Our Hedgehog lending library is up and running and every child should have brought a book home to enjoy for a week before having it changed. This will continue all year.
We are looking forward to World Book Day next week where the fun involves the whole school. Your child should hear a specially selected favourite story read to them by two different teachers and I will visit two classes to share my favourite stories.
We love having you join us on Fridays for share a book and today we had 12 parents in class! Keep sharing books and asking your child about the stories they have heard in class.