We are map readers.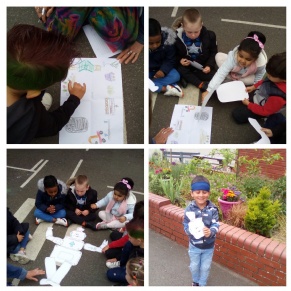 This week was geography fieldwork week all across school.
In nursery, we have combined this with the launch of our new topic, 'I am a robot', by hiding robot body parts and using a map to find them.
Mrs Allen worked with small groups outside to:-
Orient the map and identify which pictures represented which feature of our outdoor environment.
Supporting each child to choose an area of the map to explore, looking under, over, behind and next to.
Modelling positional language as they hunted.
Building the assembled robot parts into a robot together.
Finally, each child pointed to the place on the map where they found the robot body part and used appropriate positional language to talk about exactly where the part was.
Lots of great new learning took place and some wonderful language.
If you get an opportunity to show your child a map at home, even a simple homemade one like ours, it will help to build on their new learning.