We had a visit from a local author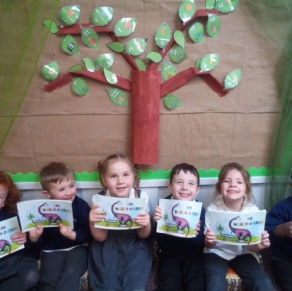 The children were very excited last week to have a visit from a local author, Laura-Joy Newman.
Laura-Joy read her book 'The Worry-o-saur' to the children and answered some questions they asked. One of our favourite questions the Reception children asked was "Why did you write the book?"
Back in class we had some great discussions about times the children have felt worried and the strategies we can all use to help if we have a worry.
We also looked at other books linked to emotions such as 'Ruby's worry', 'The huge bag of worries', 'The koala that could' and 'How big are your worries little bear'. All these books are great tools for helping children understand that the feeling of worry or uncertainty is normal and something everyone feels from time to time. They also help children understand how to manage this feeling and feel better. If your child is a little worrier, we would definitely recommend purchasing Laura-joy's book, if you haven't already, or one of the other books listed above.
If you have any concerns about your child and anxiety please do come and speak to one of the team and we can offer support and strategies to help.
Please enter some content for your blog post here.