Mother's day Afternoon tea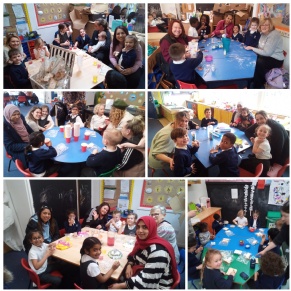 Squirrels and Rabbits had a wonderful afternoon on Thursday 16th March.
We welcomed mummies, nannies and aunties into school for a special afternoon tea and crafts session in honour of Mother's Day which is on Sunday 19th March.
Children spent the morning making sandwiches for their special visitor (and themselves of course) and talking about who the special ladies are in each of our lives and why we love them.
In the afternoon lots of mummies, nannies and aunties joined us. We made (and ate!) iced biscuits, ate the sandwiches made by the children and drank some fruit squash.
We also took part in craft activities - making a special wooden hanging ornament and creating a paper bowl hat.
Everyone had a lovely time and we were so grateful to all those grown-ups who join us in making special memories.
We wish all the mummies, nannies and carers a very special day on Sunday.