A Message from Miss Hussain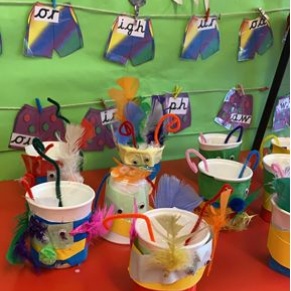 Hello Year 1s,
Hope you are all well and keeping safe. It is still a very strange time however we can start to get out a little bit more which I have been enjoying.
Last week some of your friends have come back to school. It is a little different for them as they have to work and sit in different places in the classroom. The work that they are doing is the same as what we have asked you to do at home. I do hope you are spending some time doing school work. Remember you can email your work on the year1help@stopsley.primayluton.co.uk email and we can put it on the website. It will be lovely to see what you are doing.
Recently when the weather is good, I have enjoyed going to the park and seeing a few of my friends. I have to remember I can't give them a hug or get close but even so it was nice to see them. We have had some lovely chats and some long walks around the park.
When I have been at home I have made sure I am doing lots of school work and getting things organised for when we all come back to school and can be together. As well as school work I have enjoyed sitting in my garden and enjoying some of the beautiful weather that we have had. I have spent some time redecorating my living room. It has been a good project to work on as it has kept my mind busy.
I do miss you all. It is hard but I know we will soon see each other and share some lovely stories of things we did when we were away from school.

Love
Miss Hussain