A Message from Miss Williams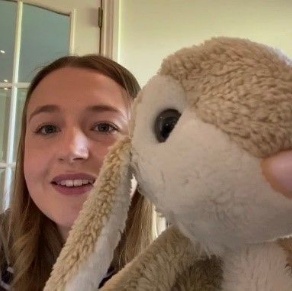 To Kandinsky Class and Year 2,
I wanted to write to you because I am really missing being at school and teaching you guys. I wonder what we would be up to now if we were in school? Perhaps we would be enjoying our reading treehouse and listening to me read a Roald Dahl book? I know that was my favourite thing to do with you, especially with the fairy lights on - it made it extra special! However, no matter how much we both miss being at school we need to make sure that we are all being safe and staying at home, so we can beat this virus and get back to school soon.
The Year 2 teachers and I have been working hard to make sure you have lots of learning to do while you are at home. Please make sure you take a look at this and have a go. Don't worry if you think there is too much. We have put lots on there, and we don't expect you to do everything! It's whatever you can manage. Please, please, please take lots of breaks and enjoy time with your family! Maybe you could even turn some of your learning into a game with your family?
Have you seen the video of Rab (my teddy) and I telling you what we have been up to? We've had great fun together. Here are a few things I have been doing:
Gardening –I have recently got an allotment, so we have been planting lots of fruit and vegetables. I have been waiting very patiently for them to grow. I didn't quite read the instructions carefully because it says that I have to wait MONTHS until they are ready to eat!
Reading- This year I challenged myself to read at least 6 books because I haven't read lots of books for a long time. You will be glad to know that I have been very determined and I have read 4 books already! It has made me realise how much I LOVE reading.
Running – Another challenge I set myself earlier in the year was to run 5 kilometres (a REALLY long distance!). I have been training regular and I haven't got there just yet, but I am determined that I will get there soon if I keep practicing and challenging myself.
Eating my Easter chocolate- Yes, you know how much I love chocolate, and especially as the Easter bunny was still able to visit me. Maybe that's the reason I haven't managed my 5 kilometre run so far because of my love for chocolate!
Video calling my family- I was meant to visit my family during the Easter holidays because I haven't seen them in while. So I have been video calling them lots and making sure they are staying safe.
I would LOVE to hear what you have been up to. Maybe you can set me another challenge to do?
If you would like to write back to me ask your grown-ups to email year2help@stopsley.primaryluton.co.uk with the subject 'Dear Miss Williams and your name'.
I look forward to hearing from you,
Stay safe,
Miss Williams