Monday Motivation!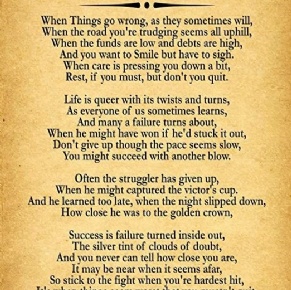 Hi Everyone,
Hope you are well and keeping safe. I know you are all busy learning at home. Thank you and keep it up. We are all really proud of you!
I have been busy and trying to keep positive. The poem 'Don't Quit' written in 1921 by Edgar Albert Guest has helped, inspired and motivated me to carry on. Have a read…
What has helped you to keep going? Share some of your tips and ideas.
Here are few things you can also try to help you relax and feel good about yourselves- your mind and body.
Mind
Challenge yourself and broaden your horizons.
Learn a new skill: a language, knitting, painting, and gardening.
With a new language (French) practice your skills by speaking it aloud.
Undertake new routines/schedules.
Take journeys in your mind to keep your memory sharp. Explore in the garden. Go for walks.
Go through a favourite book or film and trying to recall the different scenes.
Set your own quizzes. Name all the countries in Europe. Name rivers and mountains. Think of all the football teams in England. How many animals can you name that start with letter a,b, c, etc.
Try meditation or mindfulness.
Body
Include physical activity in your daily routine.
Take the opportunity to exercise outside with parents/ carers.
Exercise indoors, you can use whatever you have around you to exercise to the best of your ability – walk up and down the stairs, sit ups in the living room, skipping.
Set yourself goals to achieve, (20 start jumps daily)
Do daily stretches.
We look forward to receiving top tips from you all and cannot wait to see your beautiful faces and lovely smiles.
Mrs Ahmed