The Battle of Hastings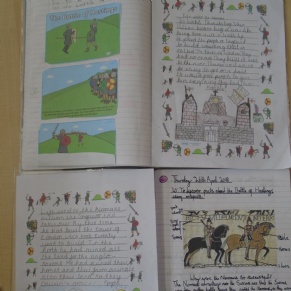 On 14th October 1066 King Harold and William the Conqueror fought at the Battle of Hastings. The children have submerged themselves in the gruesome tale of Saxons v Normans and the advantages and disadvantages of each army; resulting in the English losing to the French. Using artefacts, images, videos and reinactments the children have pieced together clues from the poor Medieval times to get a sense of how it would have felt at the time.
After the great battle a lot had changed for England and the children are beginning to see how some of those changes are still prevalent today. William the Conqueror brought along with him french words and combined them with the english. Did you know that words such as onion, beef, country, royal and melody are all derived from the french language? William also created the Domesday book (the first of its kind in the country) to record all the land ownership and he built the Tower of London too.
So far, Year 5 have enjoyed learning about the past and still have plenty more to learn. Next we will write a recount from the perspective of one of the soldiers from the battle. I wonder whether they will write from the perspective of a Norman soldier or a Saxon one?