Stopsley Book Fayre - Thursday 8th July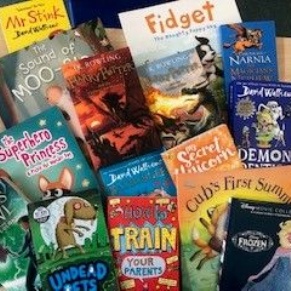 We are running the Book Fayre ourselves this year to ensure that it meets all Covid safety
requirements and so that EVERY penny in profit goes directly to supporting our children. We have a wide range of books (from Harry Potter, Artemis Fowl and David Walliams to Pokemon, Horrid Henry, Disney and My Secret Unicorn) and stationery which we will be sharing with the children on the day. All books are priced under the RRP, ranging from £4 to £7.50 and there are selections suitable from Nursery to Year 6.
Please send your child into school with their money to spend, in an envelope with their name and amount on the outside for the teacher to collect in that morning. The children will make their choices that day and their books/stationery and change will be given to them by the end of the day on Friday (all items are being stored in quarantine until purchased to ensure they are Covid secure).
Please do support the school with this fundraisingopportunity, Covid has restricted the fundraising opportunities this year but by running the event ourselves, every penny raised goes back to supporting our children!